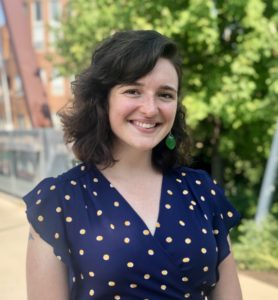 Healing, in its many forms, is often messy and demanding. But healing can set us free. As a counselor, Alexandra seeks to support, empower, and walk alongside clients in their search for wellness, growth, and freedom. During sessions, Alexandra will listen to your stories, help you develop healthier forms of communication, and encourage you to find safety, pleasure, and meaning in your relationship. She strives to continuously learn and grow in cultural competency, which is a vital component of trust-building and effective counseling. She is also committed to advocacy work outside of the office because she believes that our health as individuals is intertwined with the health of our communities.
Alexandra is open to working with a diverse range of couples and presenting issues. She is particularly interested in working with people in the LGBTQ+ community, monogamous and polyamorous folks, and couples who may be struggling with sex-related issues.
Alexandra is a graduate student in the Clinical Mental Health Counseling program at Adler University. She previously received her Bachelor of Arts in Psychology and Philosophy at Saint Mary's College in Notre Dame, Indiana. She is currently involved in research about trauma as narrative, as well as anti-racism in academia. In her free time, Alexandra loves to run and hike long distances, read, and laugh with her partner.