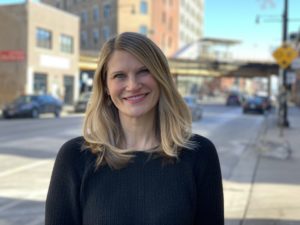 Cynthia Bassuk is a relationship expert trained in Gottman Couples Therapy, Acceptance and Commitment Therapy for Couples, Emotionally Focused Therapy and more. As a relationship counselor she provides couples counseling and "couples counseling for one" (where one of the partners comes in to work on the relationship).
Education
Cynthia holds a Masters in Professional Counseling from the Illinois School of Professional Psychology. And she also holds a Bachelor's Degree in Psychology from Loyola University Chicago. She believes that there is always more to learn and makes a point of attending as many professional development opportunities as possible. The two most recent were a Gottman Level 1 Training for Couple's Work and an Advanced Mindfulness workshop. She has been providing counseling services to couples and individuals since 2006.
Treatment Style
Cynthia takes a directive, and open minded approach in her work. She believes that therapy should be a collaborative process and does all she can to help you reach your treatment goals. Her treatment utilizes Acceptance and Commitment Therapy (ACT) a cognitive theory based on research. She also incorporates Gottman's research on Couples and EFT techniques. She prides herself on being very approachable and personable. She believes that although therapy can be challenging at times it need not be boring therefore humor and laughter is encouraged in treatment style. Cynthia's work has proven extremely effective with relationship issues and anxiety.
Professional License and Certifications
Cynthia is a Licensed Clinical Professional Counselor in the state of Illinois and a Nationally Certified Counselor. She is also a Certified Life Coach.
Professional Memberships
Cynthia is a member of the following professional memberships:
Association of Contextual and Behavioral Science (ACBS)
American Counselor Association (ACA)
Illinois Counseling Association (ICA)
Illinois Mental Health Counselors Association (IMHCA)
National Board for Certified Counselors (NBCC)
Publication
Cynthia is the co-author of the book Introduction to Psychology which was published by Words of Wisdom, LLC.
In her free time she enjoys bicycling, reading, doing yoga, studying Buddhism and spending time with friends.
Cynthia is available for coaching, private consultation, speaking and training.
Please inquire for more information regarding Cynthia's fees for service.