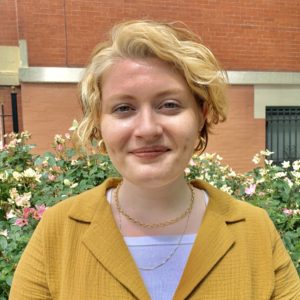 Couples are as unique as the individuals who have created the connection. It is my mission to work with couples to figure out the unique aspects of your relationship that you want to foster, change, and further develop. Together we will learn how to create more effective means of communication, safety, support, and pleasure in your relationship. 
It is my belief that, as individuals, we never stop learning, adapting, and growing. I take a non-judgmental, discovery-based, and trauma-informed approach to individuals and couples. As we grow as individuals, shouldn't we find ways for our relationship to grow with us? Whether you are feeling lost, satisfied, or apathetic in your relationship, it is my job to provide you with the empowerment you need to feel like an expert in your partnership. 
Shelby is open and excited about working with couples of all backgrounds and presenting issues. She is particularly interested in working with people in the LGBTQ+ community, monogamous and polyamorous folks, and couples who may be struggling with sex-related issues, major life changes, and child/pregnancy concerns. She often takes a narrative, feminist, Adlerian, and existentialist approach to clients, believing that personal meaning is paramount and that the couple creates their story together within their larger cultural context.
Shelby is a graduate student in the Clinical Mental Health Counseling Program at Adler University in Chicago. She previously received her Bachelors degrees from Indiana University in English, Theater, and Gender Studies. She is currently involved in birthing-trauma research and is actively involved in social justice activism. Shelby is always ready to recommend a book or self-care activity and uses her background in the Chicago comedy community to weave humor into sessions when it is appropriate. 
Shelby is a counseling intern and accepts sliding scale payment for sessions. If you are interested in our sliding scale services or in scheduling with Shelby, please contact our intake team at intake@acclchicago.com or 773-249-2921(x1).